The Tavern is a location in Aberoth found in the east of The Town. It contains Tavelor's lost and found, Tavelor's engraving-table, Tavelor's bar, and a back room usually used by players to trade.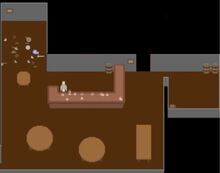 The Lost And Found
Edit
Found in the top left-hand corner of The Tavern, The lost and found is a very important feature of Aberoth. If you discover someone else's personalized item, you can return it here and only the proper owner will be able to pick it up. It is also sometimes used as temporary storage or a way of showing off items to other players.
The Engraving-Table
Edit
The Engraving-Table is located just under the lost and found, and to the left of the bar, and is another important feature of Tavelor's Tavern. If you drop an item on this table and pay a small fee, Tavelor will personalize it. If you drop your own personalized item on the table he will reverse the process. Players can also engrave items to their guild, and deeply engrave items. For more information about engraving, please click here.
The Bar is a useful area in Aberoth. Players can buy and sell Beer, Stout Beer and even Absinthe here. Since Tavelor usually stands there, players can talk to him, using the command 'who' to see which players are online in their realm, among other Commands.
The Back Room
Edit
The Back Room, found to the south-east of The Inn, is commonly used by players for trading, as you can see players approaching the room from the inside, but cannot see players in the room from the outside.