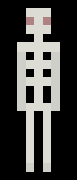 Skaldor is a skeleton boss in the Desert Tomb. He appears as a normal skeleton except for the fact that he has red eyes. He spawns with a dagger, short sword, long sword or silver dagger and is capable of dealing 50+ damage with just 1 attack. Due to being able to use a silver dagger, Skaldor might have a dagger skill of at least 30. Skaldor spawns with 6 normal skeletons and 3 skeleton wolves. He has the ability to cast fear without the use of the scroll. (If his eyes appear as a deep glowing red, it will happen) He is also capable of using a shield of terror, meaning he has a shield skill of at least level 35. Skaldor is the second hardest boss to kill after lich. You will see that he has a really high life skill and defense and he is pretty challenging even against OP players.
Every friendly NPC around Aberoth has something to say about Skaldor and his past.
Upon Death
Edit
Ad blocker interference detected!
Wikia is a free-to-use site that makes money from advertising. We have a modified experience for viewers using ad blockers

Wikia is not accessible if you've made further modifications. Remove the custom ad blocker rule(s) and the page will load as expected.