Potion Ladders (or whatever you wanna call them) are a way you can vertically stack a large amount of potions.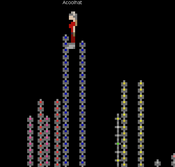 Make two potion stacks that are 3 potions tall and about 5 pixels apart. In order to climb them, you must have iron boots, hide any amulets, and keep your hands down. You can climb them with iron helmets and horned helmets, but not with hats.

Start climbing by standing completely leveled with the potions and pressing the A and D keys back and fourth.

Then continue to as stack as many potions as your heart desires.
Ad blocker interference detected!
Wikia is a free-to-use site that makes money from advertising. We have a modified experience for viewers using ad blockers

Wikia is not accessible if you've made further modifications. Remove the custom ad blocker rule(s) and the page will load as expected.