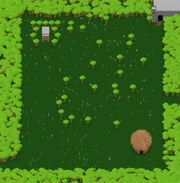 Found just outside of town, the grassy field is the first real training area for new players. It is still relatively safe, but
rogues
and
thieves
to the west can be dangerous for new players.
This region is a fairly expansive area, abundant with flowers and trees. Players can find common NPCs like rabbits, bees, and bats as well as unique NPCs such as pink rabbits and blue bees.
The grassy field is a common route of passage for all players, as it provides access from town to many of the other regions in Aberoth.
Northwest
Edit
Northeast
Edit
Southwest
Edit
Southeast
Edit
Ad blocker interference detected!
Wikia is a free-to-use site that makes money from advertising. We have a modified experience for viewers using ad blockers

Wikia is not accessible if you've made further modifications. Remove the custom ad blocker rule(s) and the page will load as expected.